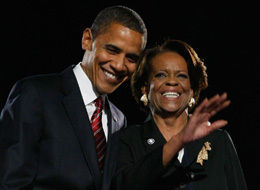 ...it's about a "we"...an "us"..a community of families being torn apart.
In our marriage ceremony, there was a part where the pastor asked the community of our families (and friends), to outstretch their hands and point toward us at the altar. He said.."You are entrusted to support this relationship, It is not only the responsibiliy of the couple but also of their families and friends to see that their marriage thrive".
Fastfoward just two short years later,, that promise of support had vanished and been broken and we indeed didn't make it. I realized then that divorce wasn't just about US but also about the collective WE that we pledged to become: one, big extended family. Although it was expected, that friends just didn't understand and would try to help, family was another story.
In having a talk with my ex-husband, I asked how my former Mother-In-Law was doing. I had gotten a feeling that she wasnt ok from other implied conversations I had had with people but I wanted to be sure. I had been quite tentative in asking my ex about his mother. You see, we never had one of those strained, typical in-law relationships. For the most part, she was VERY kind. She helped us out a whole lot. Was support. Would talk my head off when I called her or vice versa. She'd send me all kinds of inspirational e-mails or something she thought I'd like via email. She was very integral in the wedding planning and helped set up, bought extra things. She planned probably the best rehearsal dinner ever.rivaling our own reception . She was awesome. She had always wanted a daughter and she felt that she got one. She bragged on me (as did his grandmother) and it felt good to know that I had family in my corner even if they were 2000 miles away near the Pacific.
As the marriage got worse, so too did my relationship w/ my inlaws. Toward the end of our marriage, I just stopped calling. If she called, I'd hand the phone over to my husband. I was angry. I had no idea how to talk to her. When I refused to come to California for Christmas, she sent me an email and asked why. When I told her that we were filing for divorce and what grievances I had, she said something along the lines of "you should have just pray more" and "you shoulda known the person you married"- it was quite acusatory and wasnt what I expected. Of course she'd protect her baby and believed what he said! Thats her child. No one wants to hear that their child is wrong. At the time was 38 hot. But I realize now, as a single mother and unmarried, she had no idea how to react. She didn't know what a marriage entailed. She didn't know how to comfort either of us. She had no advice to give...and what advice she did give..came from a hurt place.
Most of all, my ex was her only child. She wanted nothing more in the world than to have grandchildren.. She was convinced we'd have twins (although they run on HIS side and not mine), and when we bought our house..the first thing she said on the tour of the model home was.."THis will be the nursery...and this will be MY room when I come to help out". That tickled me...because I knew she and my mother would be duking it out (LOL)..but in a good way. Ms. H was determined to move herself in (even for a little while) like Mrs. Robinson did w/ The Obamas.
So it was a surprise that when my ex told me that his mother had been rather depressed about our divorce, a little slow to warm up to other folks' babies and even a bit resentful.. I was shocked because just didnt seem like her. Divorce had changed her, too. As he told me about that, I started to cry. I felt I robbed her of an opportunity to be an awesome grandmother and continued good mother-in-law. . She is fairly young, vibrant and active. She even used to buy kids clothes and toys before we even had kids and say "This is for my grandbaby". *sigh*....Now she's just a lot less love and a whole lot more bitter.
His grandmother, with her health declining, longed to see him have her first great-grandchild. She even asked him to find a nice girl to get pregnant, out of wedlock, which was totally unlike her. Divorce had changed her too....
On the flipside, there is my mother and father. My father is and has always been distant and cold. So when we got divorce, he just became his usual distant and cold self., worrying more about the pricetag of the wedding and his small contribution instead of how I felt. He has grandkids already (by his other kids), so me being pregnant or having a kid really meant nothing. I'm sure he probably felt I dodged a bullet. However, I noticed that the warm repore he and my ex were developing post wedding, quickly faded. I guess although I'm not a Daddy's girl per se, no father want's their daughter to go through that.
My mother was hurt but respectful. She loved my ex husband like a son. Since my brother lived so far away and ex's mother was so far away, they leaned on each other as any mother/son would. They still kept in touch yet my mother respected my new life and privacy. She too quietly mourns the loss of an opportunity to be a grandmother and instead pours her energy into her godchildren, my little cousins, and buys them things here and there, supporting their school plays, games and activities at a moment's notice. When I brought up the idea of adoption (or the extreme a sperm donor), while supportive, she hoped I'd get to experience the joys of motherhood and being pregnant WITH a partner. My own mother's health isnt the best and I know she too is thinking about time to enjoy and be helpful (as much as she can). with her own grandkids. And while I go on these dates, parties, events and things..she quietly says "That's nice" (which indicates she isnt impressed) and hopes that I "find someone nice" to settle down with, be supportive of me during my endeavors, and most of all, have a family with that they'll I'm sure embrace.
When you get divorced or if you are getting a divorce and you are reading this, take some time to not only think about if the divorce will hurt the two of you but will it destroy the bonds that were built (if you had a positive experience w/ in-laws). OR if you didn't have a positive experience w/ in-laws, how you can repair it and leave on a positive note if you choose to. To some that may seem crazy like "Why does it matter?" But it does.. Black people and those of the Diaspora arent like "mainstream" people. We cherish family. We adore family. We aren't quick to write them off and dispose of our elderly in a nursing home unless we JUST have to. When we build a relationship, it stays forever. People still call me and my ex "cousin/neice/etc" although our bond has been broken legally.
Divorce is about the dissolution of a unit: parents, family and finally, the couple.
They say "these are the ties that bind".......
Don't they?