So...I am REALLY excited to see the movie
Just Wright
that's coming out May 14th with Queen Latifah, Paula Patton, Pam Grier, Phylicia Rashad and most of all...that sexy, tall drink of Caramel Latte Common. *fans self* (Clearly, Common is the selling point of the entire theatrical experience)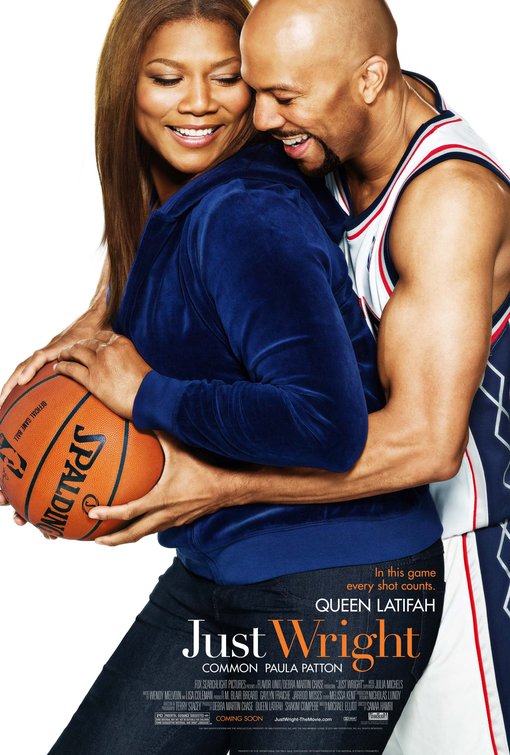 The concept, however, is well......unrealistic. And do I really wanna pay almost $10 to go see a Lifetime movie??? This is from Queen Latifah's FB page:
Come peep me as I play LESLIE WRIGHT , a straight—shooting physical therapist who gets the gig of a lifetime working with NBA All—Star Scott McKnight (Common). All is going well until Leslie finds herself falling for Scott, forcing her to choose between the gig of a lifetime and the tug—of—war inside her heart. Oblivious to her romantic overtures, McKnight is instead drawn to the affections of Leslie's gorgeous childhood friend Morgan (Paula Patton — PRECIOUS), who has her sights set on being an NBA trophy wife. Is Leslie destined to play the role of "best friend" forever or will Scott finally see that what he always wanted is right in front of him? Set against the exciting world of championship basketball, the game of love takes on the battle of the sexes in the romantic sports comedy JUST WRIGHT, starring three of Hollywood's most charismatic personalities as they navigate the full—court—press of love.
I mean..let's be real. Do you REALLY think a fine, NBA dude...would pass up an NBA prototype looking wife like Paula Patton.....for a WNBA looking Queen Latifah?? I was listening to Common on the Steve Harvey Morning show and even he said.."Well..it's a fairy tale". You damn right it's a fairy Tale. Let's take a look...shall we...at some famous NBA couples:
(Lebron and his BF Savannah)
Kobe and Vanessa
Jason Kidd and ex wife Joumana
Tony Parker and Eva Longoria Parker
Notice a pattern here?? Do any of them look like Queen Latifah???
Hell..do any of them look like ME?
Uhm..............
Imma say no
. No matter her issues or attitude. A man will put up with it for some arm candy. And especially in an industry like the NBA, full of bravado and image, it's all about the arm candy, groupies, and the prettier the pussy...the better. (And dare I say..the LIGHTER and more "indistinguisably ethnic" or non-black, the better....) Therefore, I'm more inclined to believe that Paula Patton stood a chance in hell...than Latifah (and I love Latifah..dont get me wrong..that's my girl..but she's too "butch" and "big"....let's be real)
Even my boy, my celeb crush,
Dhani Jones
has a long LIST of requirements (If you think
Chili
is bad w/ her lists...chile..you aint hear nothing yet) .....and on that list he said "mixed/exotic/olive skin" with "Long hair that isn't weave" .....you can hear that interview
here
*sigh*...
So what's a down-home, thick, average height, natural--haired, loc wearing girl with big almond eyes and mocha colored skin to do???? Is my boy right in the kind of dude I'd be stuck with? (See this week's earlier
post
) Am I right in my accessment that those kinds of brothers don't go for chicks like me?
I'm just going to have to sit with my popcorn and soda...bite the bullet in the name of supporting black movies....and roll my eyes...laugh and cry..and all while saying."Yeah right...." under my breath.
Hip Hip Hooray for getting folks (esp. black women's ) hopes up in movies! (Blame Tyler Perry and the rest of these directors for that.............)
*slow sarcastic clap*
Movie comes out May 14th
...so regardless the ridiculousness...support it.
(If you want...Just buy the matinee ticket and don't watch it. LMAO!)