It's SPRING!!!
Flowers are in bloom... April showers feel and smell so fresh...the sun is warm against our cocoa colored skin...pollen is in full effect...and it can only mean one thing:

Time to do some yard work!
Trim the hedges...mow the lawn....pick the weeds....and most importantly
..GET A BRAZILIAN WAX
!
*sigh*
Ah yes...Spring signals that all important time in MY grooming timeline. Before I pull out a single skirt, I have to tidy up. Long gone are winters were a little more hair than normal is cool (Don't get me wrong..I do NOT go full African/Amazonian Bush woman..just not as low as usual.) Therefore, it's time to trim the hedges, clean the leaves out the yard, and get a brazilian wax. The beach is calling me...and hopefully..potential "summer boos".
Call me a saddist, but I do mine myself. Oh yes..I do my OWN waxes. I'm gangsta. I have a waxing kit that I love..then I follow up with a special bikini clipper. When I have the chance to splurge, I head to my favorite Indian waxer named Nita who hooks me up and makes me smoother than a baby's ass. Yes it hurts! Yes it itches when it grows back..but in the meantime..sweet relief! Oh yes..I LOVE brazilian waxes.
While the end result is sometimes looking like a pre-pubescent 12 year old girl, the joy and smile it brings on the face of your kinkiest freak is priceless. Most men are quite appreciative of the brazilian. It's like the "naughty thing" a girl could to to herself (well..aside from nipple and clitoris peircing...LOL). It's as if you served them a steak on platinum china. A brazilian wax means you took the time to make it pretty for him and make the access easier. Who has time to find your "love button" under a mound of nappy dugout? Not cool
My ex husband, however, wasnt that big a fan of the "bare" look. His argument: "I wanna look at a WOMAN...not a kid". So I would trim down for him most times and not go totally bare...but when summer time came..all bets were off...bare i went! And i felt so much better for it! *Ahhhh!* It was like she was thanking me for breathing!! Hair was cutting off her fabulousness! Of course, this didn't stop him from doing his thing (LOL)..but he would make a scrunched up face and say.."I like a "fuller" look".... Ah...to each his own.
There are great pluses (and few negatives) in having a Brazilian wax:
1) It makes the love snacking MUCH easier....
2)It makes the love snacking much..MUCH more pleasurable (and easier). Can we say: Cookie Monster?.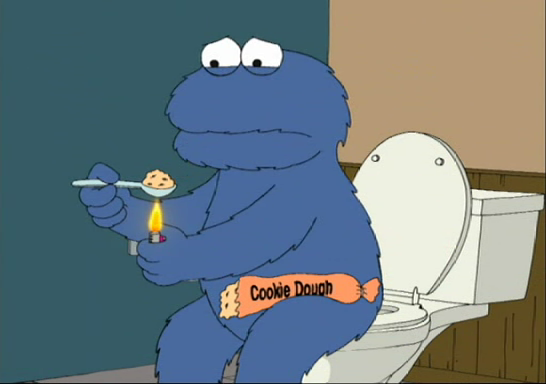 (Hahaha!! Cookie Monster free-basing dough on
Family Guy
! Trust me..your man WILL be that way! LOL)
3) It makes the love snacking MUCH MUCH.......(well..you get the point!)
4)It's smooth and in summer with all that heat..reduces funky and sweaty labias (LMAO)
5) It's sexy...it's neat...it's clean....and did we mention the love snacking????
Two negatives: (well..3)
1) It HURTS like a biatch! You better have some nerves of steel!
2) Growing back is NO FUN..the itchies are insane and the stubble isn't pleasant when you are love snacking OR engaging in the act.
3) Often times it can be VERY expensive....(unless, you are like me., and Gangsta! LMAO!)
Now..if you are not brave enough to go "full Brazilian"...then just do a bikini wax....edge it up..get a design...landing strip....carve dude's initals in it (LOL)...whatever. All I'm saying is..unless you just are an ultra feminist that doesnt believe in ANY type of grooming. you gotta do something to your hedges before they get watered (LOL).
Also...waxing is not only for women! MEN! Shave that forest that's hiding what you call a "Zulu Staff"! We dont need to be choking like a cat with a furball when we wanna "rock the microphone". Not cool! You dont have to go as far as waxing (cause that might be slightly gay)..but every brother I know owns a pair of Wahl clippers. So get to cutting!
Trust me...your man (or woman..) is going to THANK you for it!