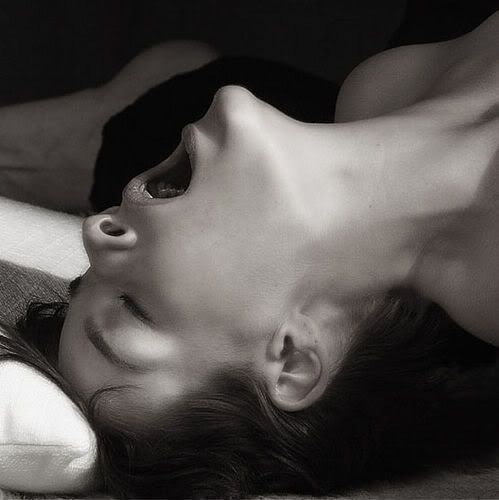 We all do it.
All women do it.
This is a universal fact..,
So get over it men.
But our reasons why may surprise you.
In my women's studies class, I was responsible for presenting on the sexual, personal and political implications of faking orgasms. Yes... Political.
This presentation was right up my alley. I mean, I'm a sex blogger for goodness sakes. While I always felt my orgasm or lack there of was a highly personal thing, I never thought of my faking it was some sort of participation in patriarchy or capitalism.
Hard to understand? Let me explain....
As women, when we fake orgasms, we totally remove ourselves from the sexual experience. We play into the stereotypes of passive women who just "take" sex. We are the ones who are laboring in the sex: giving men our orgasms as a "gift" to their hard work. Sex becomes a negotiation. Orgasms become our capital in sexual economy. Women feel that a man is the only one who can GIVE you an orgasm. Men hold all the power. All the moves.
Furthermore, because so much emphasis is made on vaginal orgasms (that guess what...most women do NOT have) little is paid attention to clitoral orgasms. Therefore, we are just "faking to make it".
SO why DO we fake it???
Women are not vocal all the time. They don't want to disappoint men. They want men to be happy. They want to stroke egos and make sure that a guy isn't mad at them. They don't want the man to leave them. They don't want to cause an argument. Sometimes we are just tired and just want to sleep. Our knees hurt (lol). We don't want to have sex with you ultimately and maybe just want it over with.....Also, we've been so desensitized to sex via porn that we have no idea what sex is supposed to look. Furthermore, there is an expectation, esp in long term relationships that you should be cumming during each and every act of intercourse.
*sigh* So many reasons.... most of which overlap....
I, for one, faked it many a time. Usually vaginally. (
Confession: I've NEVER had a vaginal orgasm. Ever. In Life.
) Sometimes clitoral. I've watched enough porn to know what men expect. And I hate to disappoint. And I'm such a good actress (lol). I kinda like the show of it all honestly. I fake to see if I can fake so convincingly that men will never know I was being fake. I want to show a guy I am pleased with his performance So I guess in a way, it is a "gift". No one has caught me yet :)
I think, as my research and article pointed out, that there is so much pressure for women to orgasm. Men are always asking "Well did you come? Did you come?" That gets on our nerves until finally were are like ..."Let's FAKE like I came..so he can shut the fuck up!" I think if men stopped putting pressure on themselves to be superior lovers, which in turns puts pressure on us, there would be less faking. If we would have open dialogue on our sexual expectations, then we would fake less. It's all about communication.
Faking orgasms happen. It's a part of sex. I won't promise that I won't fake anymore...but what I will promise is that I will be much more vocal about what works and what doesn't work.
and you should too :)