aka "Why I hate Wesley Pipes" And/Or. "I'll take mine without ugly people"....
** The WPR is back by popular demand. I had cut it out due to my own issues w/ watching and being celibate. While my stance on porn as an educational tool is still rock solid (despite my choice to end my celibacy) I found that porn seemed to not be the trigger that I thought it would be. So I acquiesce to your email inquiries, male and female, for more porn reviews!*
This week we will be reviewing...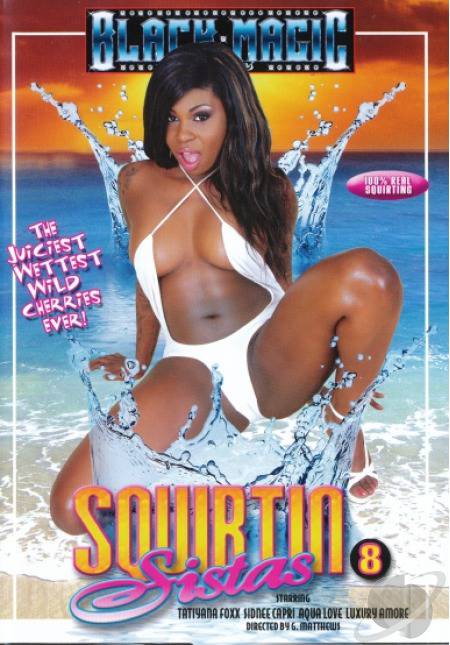 Squirtin' Sistas 8
So I got the opportunity to try "video on demand" and stream a full porn movie. The selection of black porn was varied and vast, but what seemed to get the highest positive reviews was Squirting Sistas 8. It is a newest release from Black Magic productions. It features some girls and guys I'd seen before such as Rico Strong (former AVN nominated actor of the year... *snorts @ "actor" ) and Brown Sugar who was in the first WPR"squirting" movie I
reviewed
. Needless to say, that peaked my interest because I find her rather skilled. Yes...there are 8 of these movies. (LOL). and this is the newest one.
Anyway..the
first scene
opened with some new chick (well new to me) named Tatyana Fox (SN: I really hate how "Tatyana" and all versions are like the exotic, hot porn name...but anyway...). SHe looked young but was petite and had a great body and ample behind. I am sorry, I am not gay or bisexual but if I am goig to watch people have sex, I'd like for the women to have big butts and the men to have big sticks i.e. look better than REAL life people. So anyway..I thought "Ok she seems ok". She goes into a solo masturbation scene and naturally "squirts" (which prob isn't real lady juice anyway....more than likely she just has good PC muscles and can hold a lot of water in there......LOL). So enters the man...and low and behold...enters Wesley Pipes:
*shudders. This dude....*smh*
Let me tell ya'll why I HATE Wesley Pipes
. HE is ugly. I mean ugly as hell to me. He looks like one of those dudes who couldn't get pussy unless he a) paid for it or b) took it. He looks like he is fresh of a bid in Attica and just desperate to hit anything. He looks like a wife beater. His lips are ugly like he smokes mad blunts. His face is ugly. And even more so, his dick is ugly. I mean...if you are gonna be ugly at least have a magnificent manpiece. But alas...he doesn't. It's mad thin and skinny to me....and always lacking "something" in his stroke approach. *shrug* (SN: One of my good girlfriends, quiet as it's kept, LOVES Wesley..which is odd because I'd never think a lady like her would enjoy such an animalistic thug! *smh*...but fantasy is fantasy. For the record...I dig Mr. Marcus....LOL) Perhaps some sistas like thug love, but not this girl...he is BEYOND thug. Just a damn hoodlum...
..and did I mention ugly???
Anyway..the scene progress and in usual Wesley Pipes style...he verbally berates the girl...saying her pussy was "little as fuck" (or something or other...I zoned out soon as he enter...literally)..then to make matters worse...he was making the girl "squirt"...fine....but do you have to SLAP and hit the woman in her face and on her arms/back to "motivate"? Do you have to curse her out or berate her? Ugh...I think not. ANd when he cums..he makes dumb ass noises like he's taking a dump. Not my cup of tea. I was glad when that as over.
The second scene was a very tall, thick woman named Sydnee Capri (who had bouncy, natural hair and a bouncy butt to match...btw...LOL) and her partner was Rico Strong. I appreciate Rico... He puts in work and doesn't berate and he is fairly attractive albeit short. Ms. Capri was a skilled squirter, especially when she was riding Rico. Not to mention, Rico has great verbal motivation.....I mean the kind of stuff you wouldn't mind hearing during sex. There are no "Bitches" or "hoes"...a la Wesley Pipes...so I am never disappointed with him. (not to mention...he's kinda packing). They were getting it in and it was an enjoyable scene.
The third scene was with a girl named Luxury Amore. After the gratuitous, "oil my body" scene, she was thick and ample boobs and honestly, body wise, reminded me a lot of myself, so that made me feel comfortable. *Shrug*. She was, however, beyond a "squirter". Sista was a GUSHER. I mean it was all over the place. Goodness....but i wasn't too interested in her (because that gushing was fake as her lashes). I liked her partner. SOme guy named Nathan Threat. He was gorgeous. Tall, dark and had locs. His penis wasn't shaped like a pencil. Not to mention, he was really putting it DOWN. She'd squirt...he'd swallow. She'd squirt...he'd want it all on his face. She'd squirt....well...you get the picture. He at least made you believe he enjoyed it.....
THe last scene.....once again...enter Wesley Pipes. and then this UGLY, crackhead looking chick named Aquarius Love. She was not cute. It was as if Dave Chapelle put on a wig, grew an ass and had breasts. I was just disturbed.... then to pair her with Wesley "I look like my peen smells like beer, chicken and desperation" Pipes, was NOT turning me on whatsoever or even entertaining me. Neither was this chick. I will be honest, I didn't get through much of the scene. I'd fast forward, pausing on the actual squirting (because that part is rather educational). I had no desire to hear his abusive tone or see his skinny penis or ugly face. (LOL) And the sista needed a waxing like nobody's business...it looked like a Nestle crunch bar.....*smh*
All in all..I'd give this video a 3.5 out of 5. Only because I dislike Wesley Pipes so much...he made it hard for me to watch. But I enjoyed Rico (as always)..and this Nathan Threat dude. And naturally, squirting is always fun to watch (whether it be real or fake). This wasn't nearly as good as the Jada Fire fueld "Black Squirt"
You can preview a clip for free here:
http://www.pornhub.com/view_video.php?viewkey=1037051139
You can stream this porn and many others via Adult Video Universe. They even allow you to rent it for a "Lifetime" in order to stream on demand! Enjoy :)