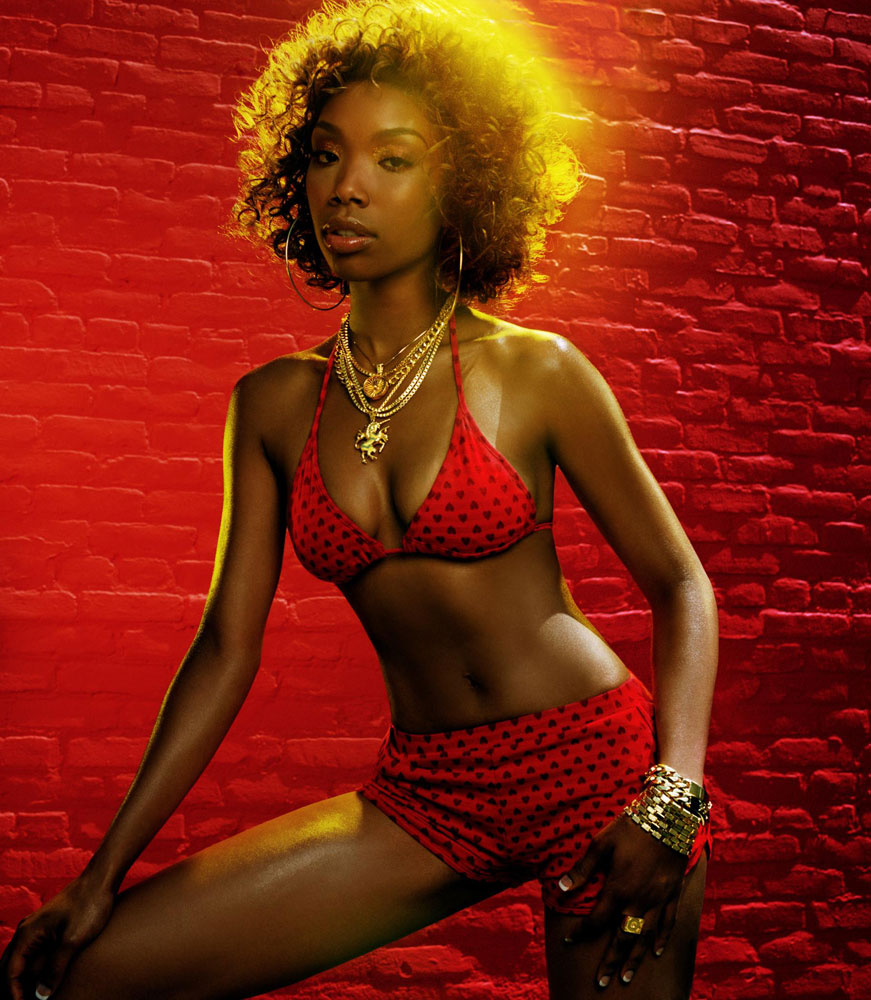 I can only watch a select number of Reality TV shows before my brain usually turns to mush. The Kardashians (how to get rich doing nothing but screwing and well. nothing), Basketball wives (hoes who somehow prosper), What Chilli Wants (a delusional middle-aged woman) and Real Housewives of ATL (neuvo-riche black women and one crazy white woman thinking they are better than somebody) are just a bevy of those shows that I can barely tolerate and are laughable after a while.
But one show that I can watch and shake my head (usually in agreement) at often is Brandy and Ray J's Family Affair. I sort of always skip over the scenes dealing with Ray J (cause he's a coon and I got no time for him) and always focus on Brandy.
I've always been a fan of her music, her unique voice and definitely her style. I feel like I grew up with Brandy (we are the same age). When she had the box braids, I had braids. People call her "odd looking". I've been called "odd looking" too. We both went through the awkward phase. We both had braces at the same time. And minus the lace front wigs, I think we've had every hairstyle imaginable. She's rarely gotten in any kind of trouble. And neither have I. She avoids a "tabloid life" and I avoid a drama free life. She's had her heartbroken (publicly) and I have as well (privately and publicly if you want to count social networking).
When she was having her first heartache, so was I. When she experienced disappointment, so was I in my life. Kindred spirits I suppose. So now that Brandy is a 32 year old single-mama, trying to get her career back on track and most importantly, after an embarrassing break-up, her love life. I can relate. I'm the same age, trying to get my career and education on track, and most importantly my love life. Where Brandy and I different is that she is a multi-million dollar earning platinum selling artist, and I'm just Mocha (lol)…and that's about it. So when guys say Brandy isn't cute, I retort and say, "I think she's gorgeous in a very unique way", sticking up for her like she's my long lost sister or cousin or something.
Brandy Norwood is unlucky. Painfully unlucky. She's a beautiful girl (especially internally) that most men (brothers I speak to) find to be a bit odd looking and un-cute. She's smart and accomplished and when I watch the show my heart breaks for her. She goes on these dates with cornballs from loserville who just have lukewarm feelings for her or no feelings at all. She dug Flo-Rida (the buff rapper) who just gave her the run around…only to end up with a more beautiful girl (Eva Marcille, the model). And on a recent episode, Brandy went out on a date with a guy (a male model) who from the start, seemed to just be disinterested and told her the age old excuse of "I am just focusing on my career" to indicate that he wasn't interested and then made a snarky face when she said her daughter was named after her favorite wine.
She sings about love…in songs…and doesn't have it.
I write about love….and I'm still searching.
*Sigh*…Poor Brandy.
Poor Me.
As I watched her talking to her girlfriend about her desire to be in love and in a relationship , I felt her words tug at my heartstrings. She has this bubbly, optimist approach to love.. Even after a wack date or encounter, she has this thing..and inner glow about her that says "I'm gonna be ok"
I am trying to take that same approach....and in some small way, she's my inspiration.